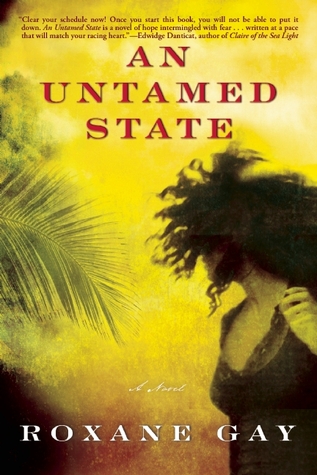 Where do I begin? I'd started and deleted so many introductions to this post. Maybe I should just use the words of the Goodreads reviewer who convinced me to pick up the book: "Wow. Just wow."
I actually learned about Roxane Gay's An Untamed State through fellow Literary Wives blogger Carolyn's beautiful review, which you can find here. Her post was compelling, but it left me in a predicament: I knew I wanted and needed to read this book and yet I wasn't confident I could handle the intensity of the subject matter.
The book is a work of fiction, about a young Haitian-American woman who is kidnapped during her visit to Haiti to see her parents. Mireille is a spirited and headstrong woman who is living the American Dream. She is happily married and successful in her career as a lawyer. She is also the new mother of a baby boy.
The kidnapping takes place in the first pages of the book. The screaming, the pounding of fists on the glass of the car, the cries of the baby in the backseat – I can still see, hear, and feel the blood-thumping events as I type this. At that point I had to put the book down for a couple of minutes before continuing on. I had to, reading this as a woman and as a mother and wife.
Mireille's father is a self-made man, who has succeeded in business and now lives a life of luxury that stands out all too starkly from the majority of the Haitian population. His wealth makes his family an easy target for kidnappers. And so the abductors demand a handsome ransom, but one that Mireille's father can afford, and one that he makes the kidnappers wait to get. It would take him 13 days to give up the money, and so it is 13 days that Mireille has to endure – is there a stronger word for what she goes through? – before she is released.
The first half of the book details Mireille's 13 days as a captive, and these scenes alternate with flashbacks to her past, mainly the development of her relationship with her husband and her entry into motherhood. There is some flashback to her life with her parents as well. This back story allows us to understand Mireille as a human being and gives a context for the second half of the book, which details the aftermath of her ordeal. When Mireille is finally freed, she is, both literally and figuratively, broken. She struggles to feel human again but doesn't know how. We see how her husband copes, or doesn't cope. We see her struggle in the new light through which she sees her father.
Mireille's voice is a force. Roxane Gay's writing is a force. The scenes of violence were intense and effective, but they were not gratuitous or more than I could handle.
Why did I choose to read this, knowing it was going to be difficult? Carolyn said it so beautifully, and so I will borrow her words here – first a quote from writer Cynthia Bond, and then Carolyn's words:
 "Somewhere along the way, working with at risk and homeless youth in Los Angeles for 15 years, living with my own abuse, and hearing stories of such pain and torment, I thought—If you can bear to have lived it, I can at least bear to listen."
Exactly. I read An Untamed State because somewhere out there, someone has lived it. And I can at least bear to listen.
I second that. And I've felt doubly so after learning that Roxane Gay had drawn from her own experience of having been gang-raped as a teenager to write this book. I am so grateful to have been introduced to this writer and I've already ordered her subsequent book, Bad Feminist: Essays.
…………………….
Have you read Roxane Gay? What is the most difficult book (in terms of subject matter) you have ever read?